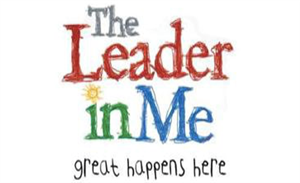 We are a Leader in Me School!
Leader in Me is an evidence-based, social-emotional learning process—developed in partnership with educators—that empowers students with the leadership and life skills they need to thrive in the 21st century.
It is based on principles and practices of personal, interpersonal, and organizational effectiveness.  Leader in Me starts from a powerful premise—every child possesses unique strengths and has the ability to be a leader—which shapes the views of staff to value and develop the whole child.
Leader In Me focuses on 7 key, age-appropriate habits:
Habit 1: Be Proactive
Habit 2: Begin With the End in Mind
Habit 3: Put First Things First
Habit 4: Think Win-Win
Habit 5: Seek First to Understand, Then to Be Understood
Habit 6: Synergize
Habit 7: Sharpen the Saw
Please visit leaderinme.org for more info
Leader in Me at WGH
As a Leader In Me School, we have integrated these practices into our school culture:
Each student has a LIM binder that they personalize and fill with goals and accomplishments every year
Every student receives instruction in the 7 habits
The 7 habits are reinforced through classroom language, instruction, interactions with peers and reflections
All classes work collaboratively to determine a unique, classroom mission statement at the beginning of every year
Students have opportunities to make contributions to their classes and school in meaningful ways, such as class leadership positions, club leadership positions, or our Student Lighthouse Representative committee
Goal setting is encouraged and evident at the personal, class and whole-school level
Our monthly success assemblies focus on positive habits and we highlight students from each class every month who embody these habits
Staff routinely get refresher and coaching sessions to keep the continuum of improvement moving forward
Galleries
Please view the galleries below to see the Leader In Me Program in action around WGH.