Back to staff directory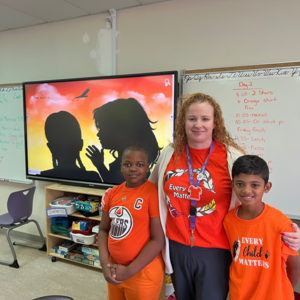 Grade 5
My name is Laurie MacKinnon and I have been a teacher at Walter and Gladys Hill since its inception. I have been teaching grade for 15 years with 17 years teaching experience total. I lived in Fort McMurray off and on since 1981 and the first school I attended was Frank Spragins Elementary in Abasand. Later, my family moved to Thickwood where I continued at Thickwood Heights School.
My first teaching assignment was as a Westview Warrior for eight years and this is where I met my second family. At Westview I was also introduced to my niche, being grade five. I love grade five students; they are the perfect combination of independence and imagination and I am blessed to come to school everyday. It has been my privilege to teach over four hundred students and I will continue to advocate for them. I have strived to connect with these tiny humans by being myself, laughing, making mistakes and sharing who I am.
In regards to my personal life I have a sassy little west highland terrier named Bridget Jones. I spend my weekends with my second family cooking, laughing and playing with dogs. I have traveled the world but I love coming home to my country. I have always tried to champion human rights and multiculturalism. Lately, I have focused my attention into allyship and am excited to be on the right side of change.